---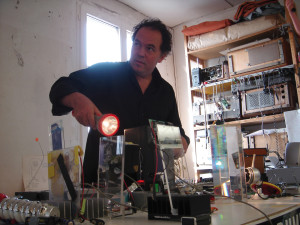 Andy Guhl (CH)
Born on the 18th of March 1952 in Switzerland, Andy Guhl transforms every day electronic devices into musical instruments. He is interested most in objects of magnetic and light wave origin as he uses the feedback effects they allow to create.
He began his career in 1968 playing double bass in improvisation and group sessions among his friends. In 1972 he formed the duo Voice Crack with Norbert Möslang and became a member of artistic formations
Point_Z and Metamkine which remained active until 2002. Voice Crack participated in Venice Biennale with the project "sound shifting / Canale Visuale (San Staë)".
Between 2003 and 2005 he focused his work on a collaborative project with Charlotte Hug, Frederick Quennoz and Otomo Yoshihide. Over the past years Andy Guhl collaborated with various artists such as Günter Müller, Borbetomagus, Phil Minton, Jim O'Rourke, Erik M and Carlos Zingaro. Now he works alone or with his companion Lisa Guhl who assists him in public performances.
http://andy.guhl.net/
http://en.wikipedia.org/wiki/Voice_Crack
Sessions
May 14, 2016
HKICC Lee Shau Kee School of Creativity, Multi-media Theatre
19:00
Artists playing the same night